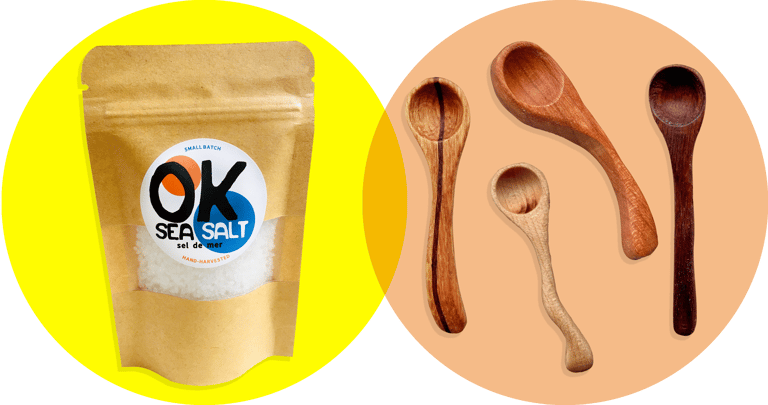 Enjoy a discount when you purchase our Sea Salt + Spoon Combo.
This includes one 50g bag of our Natural Sea Salt AND one hand-carved salt spoon.
SALT
Our sea salt is hand harvested in small batches from seawater sourced from the LaHave Islands, Nova Scotia. We collect our seawater during the incoming high tide of the full moon, bucket by bucket.
Our sea salt is wild. We aren't into/in control. We let nature shape each crystal and pack it up with minimal interference.
Ingredients:
100% Sea Salt
Mouthfeel:
Medium-Coarse Flake
Tasting Notes:
Bright / Sweet / Zippy / Sharp
Packed in a resealable / reusable bag.
SPOON
Around 3" long.
Hand-carved by Kim's father, George Kelly, of GK Woodworking.
About the spoons:
The salt spoons all have round bowls that are about 1/2" in diameter and 3/16 " deep. The handles are straight, squiggly, or curved in different planes. A variety of woods are used including, ash, oak, cherry, walnut, sweetgum, and teak. Each spoon is made freehand so no two spoons are alike, yet they all rest comfortably in a salt bowl making it easy to scoop and tap out the amount of salt you desire. The spoons are finished with food-safe mineral oil or flaxseed oil.