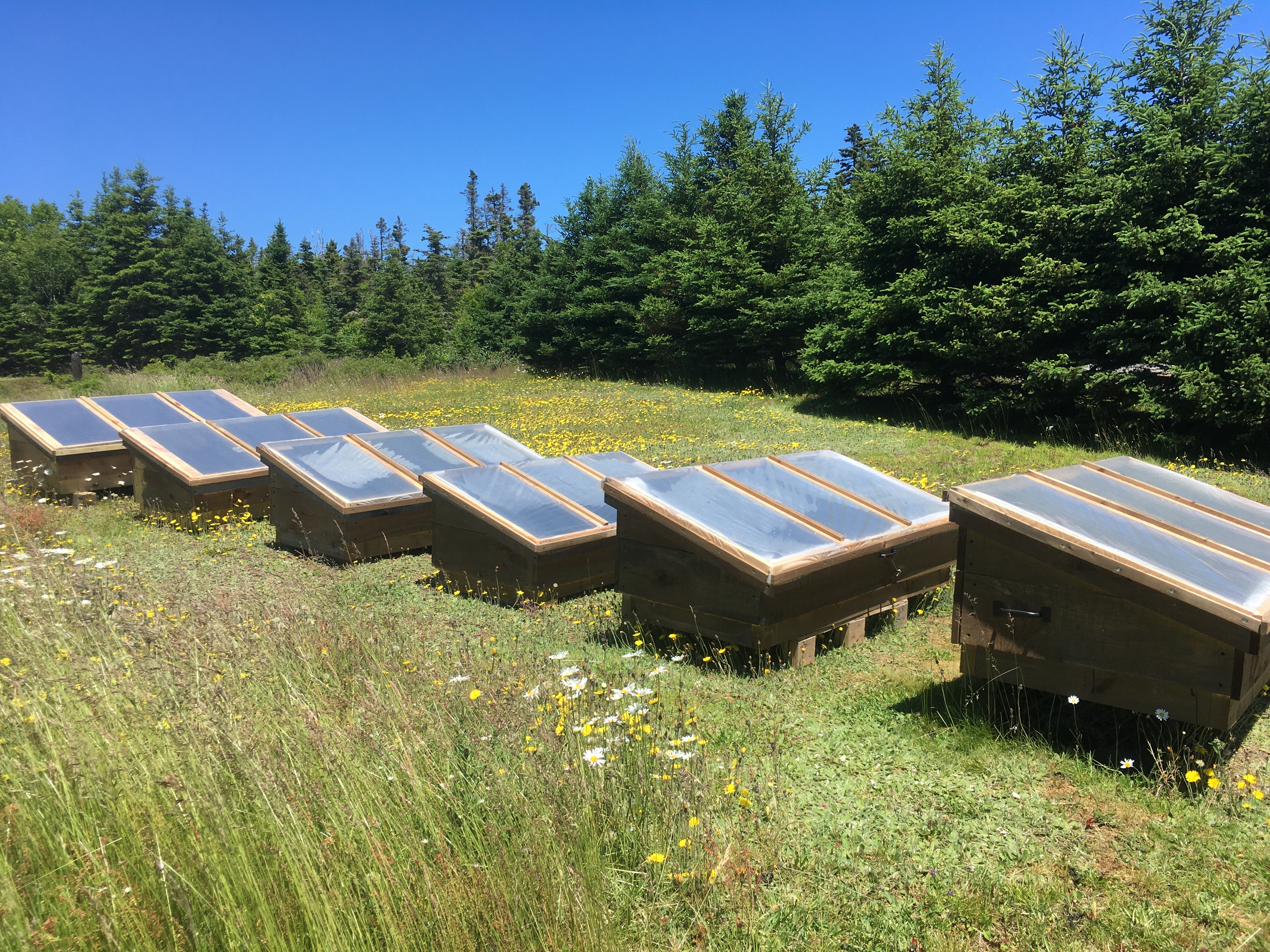 HOW IS OK SEA SALT MADE?
Sea salt is produced all over the world, and the way it's made depends on the climate. We start by collecting seawater by hand in buckets from a regularly monitored shellfish harvesting area that is 0.7 km (0.4 mi) from our saltworks. OK Sea Salt is created by evaporating seawater that has undergone three filtering processes, including one that removes microplastics down to 1 micron. To coax the salt crystals out of the seawater, it first needs to be reduced to brine. We use a number of techniques to evaporate seawater at our saltworks. In the summer, we use an array of squat solar ovens, employing passive solar power. In the winter, we use a process called "brine rejection". We can make brine by freezing and removing the freshwater from buckets of seawater left out in the cold. We then apply slow, steady heat for the crystallization process. The crystals are harvested at just the right time, resulting in a high-quality product with a bright flavour and dynamic texture.
DO YOU SHIP OUTSIDE NORTH AMERICA?
Yes. We use Small Packet International-Air through Canada Post. The estimated delivery time is between 6 and 12 business days outside of the holiday season. Please contact us directly for international shipping.
WHERE CAN I FIND OK SEA SALT?
We have a list of stockists under the Info tab. If there is a shop in your town that you would like to carry OK Sea Salt, let us know and we'll see what we can do. You can also find us (seasonally) at a couple of farmers markets and holiday fairs in Miꞌkmaꞌki / Nova Scotia. Follow us on Instagram for details: @ok_seasalt
I AM A RETAILER. DO YOU DO WHOLESALE ORDERS AND CORPORATE GIFTS?
Yes! Please CONTACT US for wholesale inquiries and customized orders.
WHAT CAN I BUY FROM OK SEA SALT'S WEBSITE?
See our Shop page for details about current OK Sea Salt inventory. We will soon be offering Ritual Kits // Cool Tote Bags // Personalized Cards // Chocolate // Sea Salt Subscriptions // Hands-On Harvesting Workshops // OK Artist Residency (OKAR) in Lunenburg County // and more!
CAN WE VISIT OK SEA SALT?
We are not open to the public. Please stay tuned for Hands-On Harvesting Workshops, OK Artist Residency (OKAR) in Lunenburg County, the grand opening of our on-site Saltbush kiosk, and pop-up tasting events at local farmer's markets in Atlantic Canada.

OK SEA SALT PRODUCTS ARE SOLD OUT! HOW CAN WE SUPPORT THE BIZ?
We are a two-person operation in small-batch production, which means that our inventory varies through the season. You can help us by following us on Instagram @ok_seasalt, subscribing to our newsletter, and investing in our innovations by making a donation.